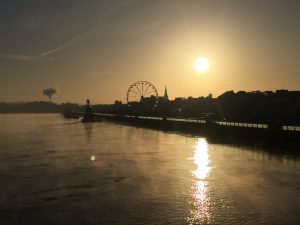 This morning I was up bright and early. Just before 7 am. Due to my incredibly busy schedule it was the only time that I could grab a quick run. As I ran around Waterford City with the sunrise approaching, the reflected of light of Venus was obvious just above the cloudless horizon, reminding the early morning commuters and runners/walkers that it still existed.
As I ran out of People's Park I reflected on the past week. A week of 29 talks and more than 1,750 km driven on the roads of Ireland. It's been a superhero-powered rollercoaster. Ranging from talks in Limerick to speaking on the stage at the Iontas Theatre in Castleblayney in Co. Monaghan where Christy Moore will perform over the coming days, it has been a memorable adventure. Superheroes and superpowers have been the centre of attention but the real superheroes and superstars have been the audiences – they make it all worth while.
For example, this morning I gave superhero talks in Dungarvan Co. Waterford. My first talk was to a an-girl 5th class group (10 and 11 years old) from a primary school. Their positivity and interest in science and superheroes was fantastic and hopefully some of the students will consider a career in STEM subjects in the future. One or two of the students were exceptional with some of them coming up with very creative ways of creating superpowers and even managing superpowers in the future. There may be no need for the Sokovia Accords from Captain America: Civil War in the real world thanks to the ideas of these students.
The superhero talks continue over the coming days. Tomorrow I'm in Edgeworthstown to speak at the Midlands Science Festival and next week I'm back in Dublin for more talks. My adventure finishes next week with a talk in Co. Clare.
It's so refreshing to meet so many people that are passionate about science, superheroes and the STEM subjects. Fingers crossed that some will be inspired to follow a science or engineering career after seeing some of the workshops this week.
Think super.
BWF