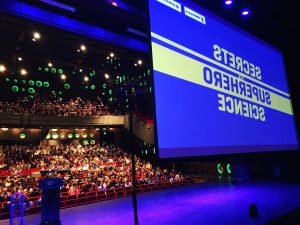 It's been a while since I added to post to the site. Sorry for the delay, it's been a hectic start to 2018.
This year will see a number of superhero films released starting with next week's Black Panther film. I've got my ticket, have you?
Already this year I've spoken at the International Film Festival Rotterdam (IFFR) and opened Saxion's International Project Week in Enschede. The combined audience number from the two events was more 1,200 people, which is incredible.
Next up I'm off to the US to speak about superheroes (and my current research at TU Delft) at the American Physical Society (APS) meeting in LA in March. And after that I'm really looking forward to speaking at the Mountain to Sea Book Festival in Dublin on March 23rd and March 25th.
Finally this year has started out incredibly in terms of my academic and superhero research. I had a paper published with regards to Hawkeye from the Avengers in Advances in Physiology Education. You can check out the paper here. I'll write more about this article soon.
And yes. Thanos is coming. More soon
BWF