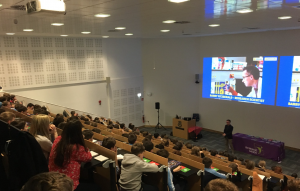 At this very moment I'm sitting in a hotel bar in Castleblayney, Co. Monaghan awaiting the arrival of my sustenance for the evening. The last two days have been for the majority spent on the road, listening to my specially prepared Spotify Science Week playlist. And yes there are some superhero musical scores in there in case you're wondering.
Yesterday started out with two talks at the University of Limerick (UL) at the Bernal building. The talks focussed on Iron Man and superheroes in general respectively. In total more than 450 attended the talks. It was fantastic to spread the word on superheroes, superpowers, science and STEM to such a large audience. The image at the top was taken at the start of the talk. I don't think I've ever seen a bigger picture of myself on a wall before.
After the talks at UL, I made my way across Limerick to speak at Thomond Community College. Finally, yesterday evening I gave an outreach talk in Roxboro in Limerick to an audience with Leaving Cert students and the general public. Once that talk finished I made my way up to Dublin in order to cut my today's journey to Monaghan in half.
Today was actually my first ever visit to Monaghan and I marked it by speaking at two all-girls schools in Carrickmacross and Monaghan Town. The students heard about advancements made by women researchers in the real world and the superhero films as well as the science behind the powers of some of the most powerful female superheroes in the films. For example, I promoted the great work of Jalila Essaidi BioArt Laboratories in Eindhoven, the amazing research of Associate Professor Ilja Voets and her team at TU Eindhoven. In addition I spoke about the development of the CRISPR/Cas system by Jennifer Doudna and her collaborators.
This evening I'll be giving a workshop at the Iontas Theatre in Castleblayney about the Secrets of Superhero Science. More super-science and superhero secrets to be revealed.
Until the next Science Week update, take care and always think super.
BWF