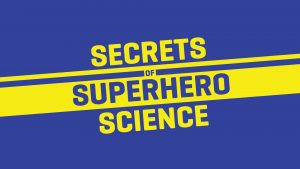 So it's 2017 and it's another year. After an epic 2016 and a very busy promotion schedule at the end of the year for "Secret Science of Santa Claus" 2017 kicked off with a talk in de Blauwe Zaal at TU Eindhoven as part of the program for Stadium Generale.
An audience of more than 200 people attended and met by a wave of superhero facts, trivia and clips as the talk opened with a trailer for the highly anticipated Spider-Man: Homecoming which reaches cinemas in July 2017. After testing their superhero knowledge, the audience were taken on a short tour of the science behind possibly creating the superpowers of their favourite heroes.
The Vision, Iron Man, the Invisible Woman and Spider-Man were all the subject of discussion. And the powers of these four superheroes will also be the subject of a huge presentation I'm giving next week at the Physics@Veldhoven conference. Stay tuned for further updates over the coming days on that event!
BWF