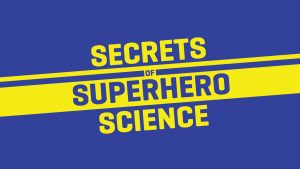 Since I published my book "Secrets of Superhero Science" back in February last year it's been an exciting superhero-filled superpower-fuelled adventure. And the adventure continues to astound!
Next month as part of the International Festival of Technology I will be hosting the 1st ever symposium on Superhero Science. The symposium – Secrets of Superhero Science – will bring together speakers from various fields to discuss their work and the implications for possible superpowers in the future. There will genetics, 3D bioprinting, exoskeletons, bullet-proof materials, nano-vision and ethics. I've got to say I'm hugely excited about the event and can't wait to host the incredible speakers I've got lined up for the symposium. A full list of the speakers can be found right here.
Stay tuned for more updates on the event over the coming days and weeks. It's going to be super!
BWF