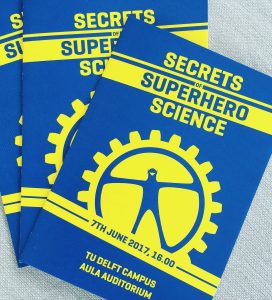 With Wonder Woman being released in cinemas around the world this month, many of you might be dreaming of super-strength, bullet-proof bracelets or even the lasso of truth.
On Wednesday 7th June, the symposium " Secrets of Superhero Science" will take place at TU Delft as part of the International Festival of Technology (IFoT). This symposium will focus on Superhero Science and the possibility of creating superpowers in the future including bulletproof materials that could replicate Wonder Woman's bulletproof bracelets.
It's been a real adventure putting the event together in conjunction with the great team involved in the organisation of the IFoT in Delft. I've got to say I'm very much looking forward to hosting the event, hearing what the speakers have to say about their work and how their work relates to creating superpowers and hearing from the audience during and after the event.
I promise a fun, entertaining and educational event and I hope to see you there.
BWF