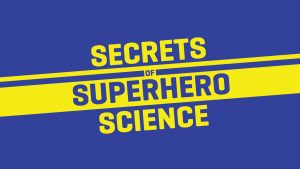 Time flies when you're doing science. In the blink of an eye Science Week Ireland has come around once again and I've a seriously busy week ahead of me. In fact Science Week started in earnest for me last week with a school visit to Castletroy College in Limerick.
For this year's Science Week I'll be presenting some brand new superhero-superpower based research from researchers around the world, some of whom I know from my research career in the Netherlands and Ireland.
There'll be lots of clips and references to the films, in particular the upcoming superhero films such as Justice League, which is released this coming week, Black Panther, which is out in February, and of course the film all superhero fans are talking about – Avengers: Infinity War.
First off this week I'm going to be in Ennis, Co. Clare to talk about the "Secrets of Superhero Science". If you're in the area and interested in hearing about some fascinating superhero-based science then drop by.
Over the coming days I'll keep you updated on my progress as I make my way around Ireland for Science Week 2017.
Think Super.
BWF